Nicholas Molinari
Ph.D. in Humanities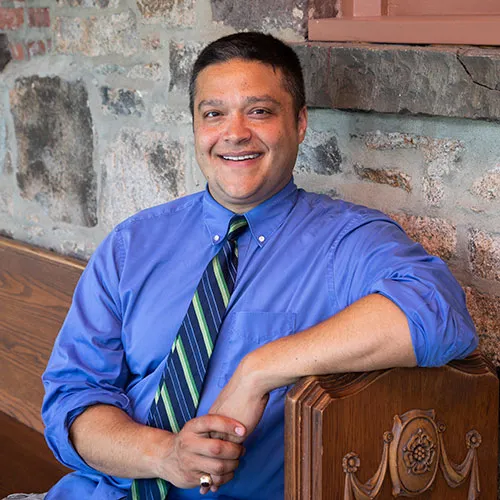 Nicholas Molinari knew what he wanted. It took an advertisement on the wall of an airport terminal to tell him how to get it.
An academic librarian, classical numismatic scholar and published author of a book on ancient coins featuring the Greek deity Acheloios, Molinari was working on an essay about the link between Acheloios and the origins of philosophy. Believing that the piece lacked some critical details, he began thinking about doctoral programs where he could explore the subject in greater depth and extend it into a dissertation. That's when he saw the billboard promoting Salve Regina's humanities program.
"I thought a Ph.D. in humanities was such an interesting idea that I never would have considered," he said. "When I saw that billboard – well, it seemed to literally be a sign."
The more he learned about the program, the more it made sense to him. "The fact that Salve is a Catholic university was very important to me," Molinari said. "And the link between the humanities and technology, which is the focus of the program here, is a perfect fit for my work."
The core component of Salve Regina's Ph.D. in humanities program is engagement with technology. Candidates are asked to develop a specific research direction that engages their doctoral theme with the relationship between people and technology.
For Molinari this was ideal, as his work is focused on overturning the views of some – the so-called technological determinists – that link philosophy and coinage. "It's been suggested that there's a causal relationship between the origin of coins and the roots of philosophy," he said. "This is a position I hope to dispute in my dissertation, and the Salve program is the perfect arena to do so."
Now, three years after spotting that billboard, he's completed all the coursework required for his degree. Molinari will submit his dissertation proposal this fall and hopes to defend it in the fall of 2020. All this while launching a new scholarly journal called KOINON: The International Journal of Classical Numismatic Studies, published by Archaeopress in Oxford.
Molinari is clearly passionate about his work. His advisor, Dr. Sean O'Callaghan, calls him "possibly the greatest and most enthusiastic student of Greek mythology and ancient Greek coinage I have ever come across."
Residing with his wife and children in Massachusetts, Molinari has pursued his doctorate through the low-residency format offered by Salve Regina's Independent Research Fellows Cohort, designed for qualified students who wouldn't be able to enroll in the on-campus program.
"Even though I'm 80 miles from Newport, the hybrid format has allowed me to contribute to the discussions of the various readings, and hear the insights from my peers about these readings, better than any other learning format I've participated in, from traditional to fully online, seminar to lecture to lab," Molinari said. "All of us contributing to arrive at a better understanding is an essential component of the program, and it's been extremely rewarding."