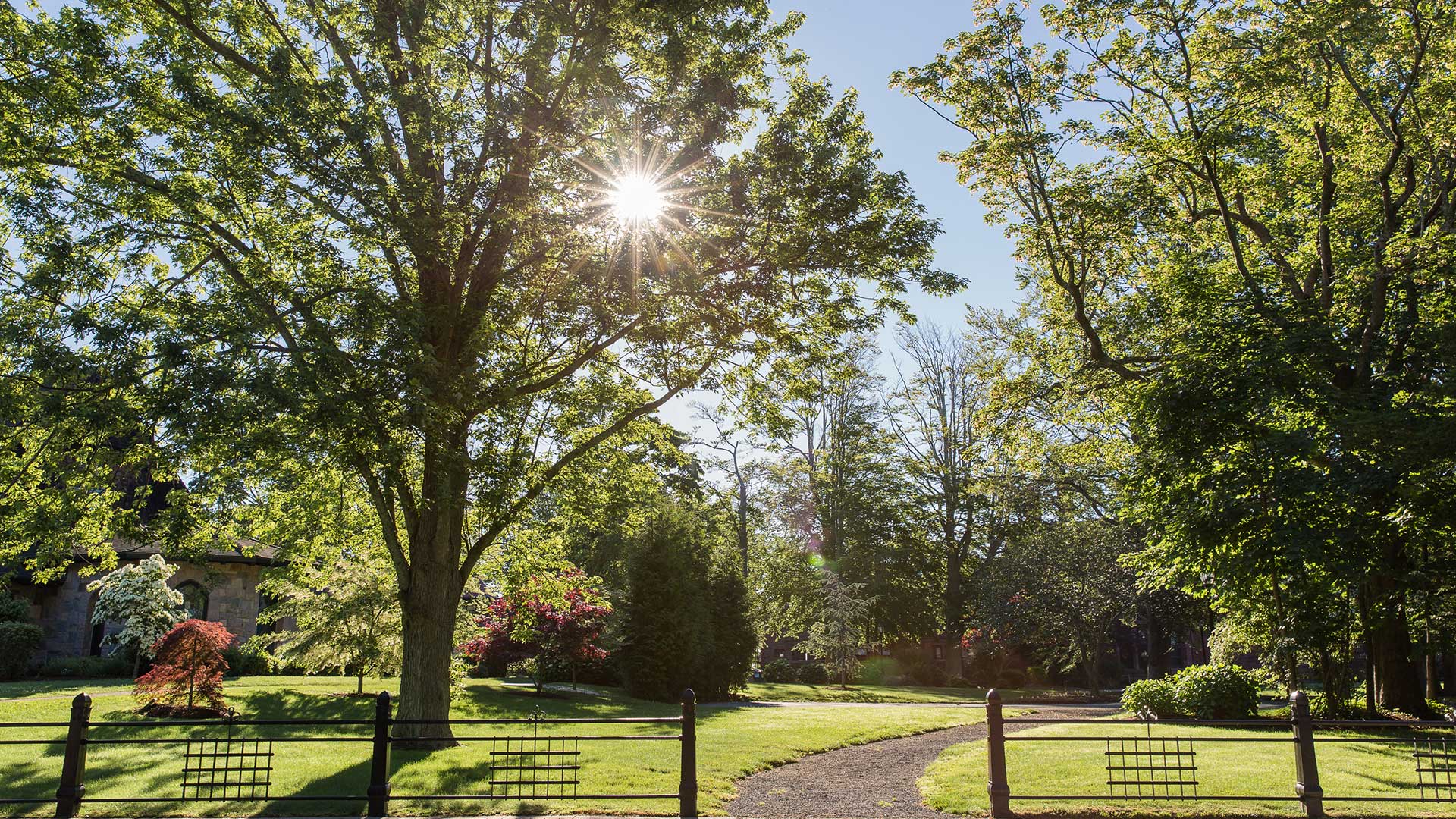 As a mercy, Catholic institution of higher education, Salve Regina is committed to advancing environmental stewardship and sustainability on campus and in the community by integrating the social, economic and ecological values of sustainable development into institutional policies and practices.
Climate change and environmental degradation are pressing moral issues that compromise the future of our common home, threaten human dignity and all life, and compound the hardships of the poorest and most vulnerable members of our community. Our commitment to sustainability is underwritten by the critical concerns of the Sisters of Mercy and Pope Francis's call towards "a new and universal solidarity" in which the climate is understood as "a common good, belonging to all and meant for all."
The advancement of an integral ecology at Salve Regina celebrates our mission to serve as stewards of God's creation, working as transformative agents to bring about a more harmonious, just and merciful world. Our institutional commitment to sustainability seeks to meet the present needs of our University community without compromising the ability of Salve Regina and our local and global neighbors to meet future needs.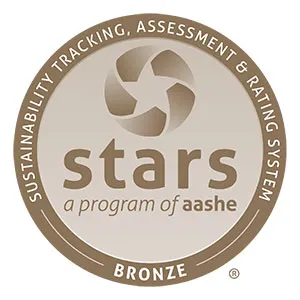 The Salve Regina community will strive to conduct its activities in a socially just, economically viable and environmentally sound manner, valuing the interdependence of people, prosperity and the planet, now and into future generations.
Goal 1: Environmental stewardship
Practice environmental stewardship by promoting responsible water consumption, waste reduction, sustainable and socially just food production, material reuse and recycling, renewable energy investments, ecological land use, green building practices, sustainable campus transportation options and campus conservation efficiencies.
Goal 2: Sustainability across the curriculum
Create an environmentally literate community by advancing interdisciplinary teaching and research to address pressing local and global environmental, economic and social challenges.
Goal 3: Integral ecology and environmental justice
Create an environmentally responsible community by fostering a visible, educated and active commitment to integral ecology and environmental justice among our students, faculty, staff and alumni.
Best Practices for a Sustainable Salve
Sustainable Salve advocates for sustainable practices on campus and in the local community, provides environmental sustainability education and collaborates across campus to create and support initiatives that reduce the University's environmental impact. Sustainable Salve encourages the University community to be mindful of the Mercy Critical Concern of Earth by pledging to do the following:
Reach out to Purchasing and Facilities before purchasing office furniture and shelving units. Facilities will check the University's furniture inventory.
If a lightbulb needs replacing, reach out to Facilities for an LED replacement.
If you order through Salve Regina's WB Mason or Amazon Business accounts, ensure that all items that have been identified as "Organization Restricted," which includes items such as furniture and balloons.
Shut off computers and monitors at night and use standby modes during the day.
If your room or office does not have motion sensor lighting, remember to turn off lights when not in use.
Keep windows and doors closed tightly to conserve energy and maintain indoor cooling and heating.
Utilize digital means over printed handouts, programs and posters for meetings and events such as QR codes, digital signage and screen sharing. If printing is necessary, print on both sides of the page and reuse paper with one-sided print.
Drink from reusable cups, mugs and water bottles and pack lunches in reusable containers.
Utilize the water refill stations located throughout campus instead of buying bottled water.
Report leaky faucets and toilets to Facilities.
Utilize recycling and composting bins.
When organizing meetings and events, be mindful of food waste and over-ordering. If you have ordered catering and you have leftover, untouched food, please contact the Center for Community Engagement and Service to distribute leftovers to community partners that have the greatest need.
Be considerate of our wildlife and do not use balloons outside.
Carpool, use the Salve Regina shuttle system or utilize Salve Regina's bike program in lieu of driving on or off campus.
Consider participating in the annual thrift shop pop-up on campus in April to donate or purchase gently used items.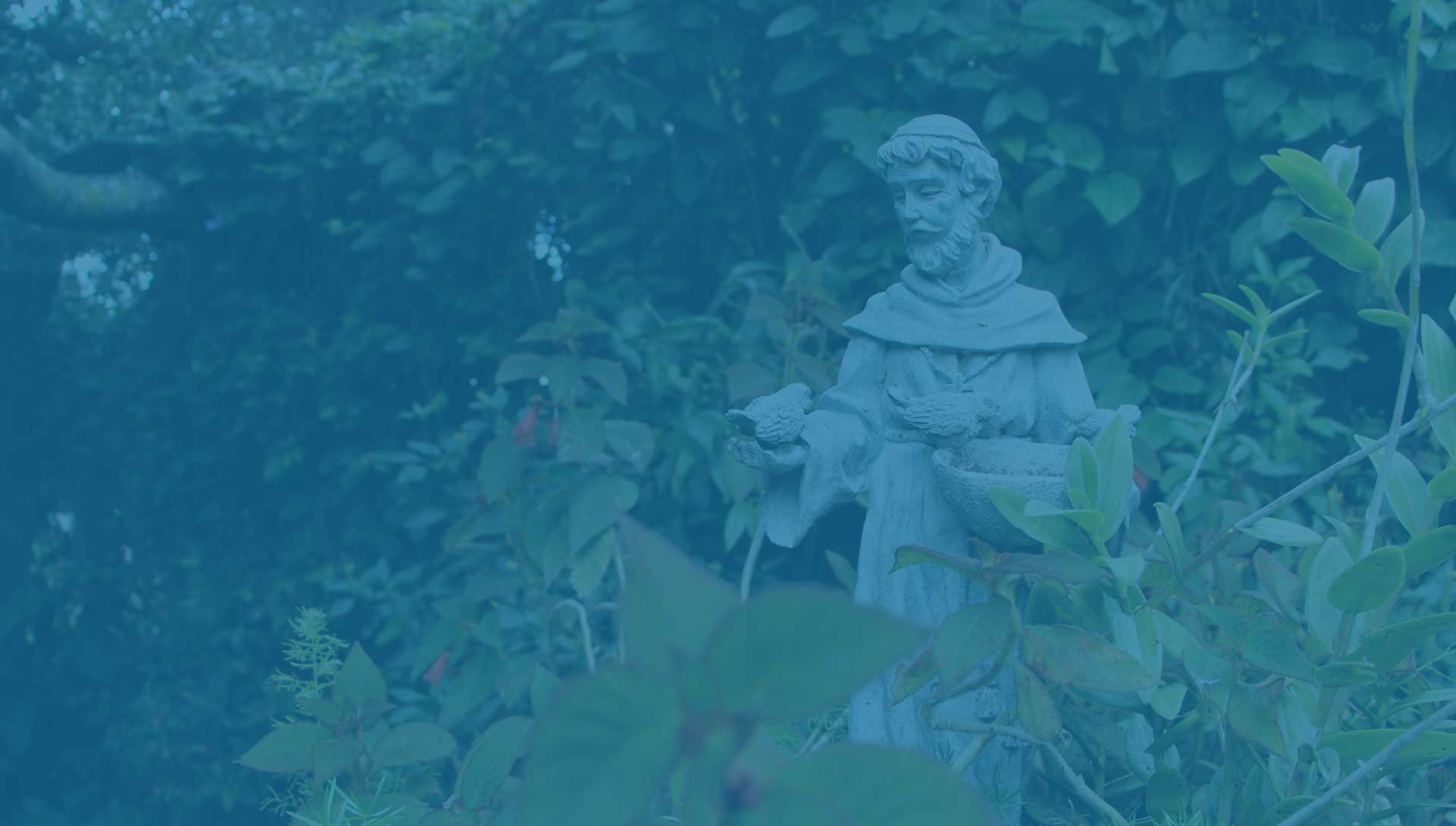 Salve Regina is an advocate for the St. Francis Pledge to Care for Creation and the Poor, a nationwide initiative created by the Catholic Climate Covenant. The pledge is a promise and a commitment to protect God's creation and advocate on behalf of people in poverty who face the harshest impacts of global climate change.
Alternative Transportation
RIPTA's natural gas-powered vehicles provide unlimited ridership on campus and throughout the state for all students with a valid Salve Regina ID.
In addition, more than 130 bicycles are available for Salve Regina students to loan on a semester basis. The program promotes healthy behaviors and healthy choices while providing opportunities for convenient transportation. All areas of campus and many local businesses are within biking distance.
By restricting the number of vehicles permitted on campus, discouraging students from intra-campus driving and exacting fines on violators, Salve Regina's transportation policies strive to reduce the number of vehicles on campus and in the city of Newport.
Battery collection bins are located outside Design Services in the McKillop Library garden level. Donors are asked to pay special attention to the recycling details posted above the bin. Of special note:
Please do not put corroded or leaking batteries in the recycling bin.
Be sure to tape all batteries as they otherwise create a fire hazard.
Clean Ocean Access Water Testing
Clean Ocean Access is a local environmental group concerned with safety, cleanliness and open access to the ocean and coastlines on Aquidneck Island. Since 2006, Clean Ocean Access has tested the water quality at popular swimming locations not considered "designated swimming areas." The program's long-term goal is to establish baseline water quality standards in order to ensure permanent clean water along the Aquidneck Island shoreline.
Salve Regina students participate in Clean Ocean Access water testing throughout the academic year, and have expanded this sampling to the freshwater rivers that flow into the ocean.
Composting (Salve Saves Scraps)
A partnership between the Protect Our Wildlife club and Sodexo Dining Services, the Salve Saves Scraps program encourages students to reduce their footprint by composting food waste in their campus residences.
Salve Saves Scraps gives students access to the University's commercial compost bins, which are emptied weekly. There are no weight limits and no cap on registrations. Applications for the program are accepted year-round.
Established in 2008, the Environmental Club plans Earth Day activities and organizes environmental awareness programs. The club has sponsored marine mammal stranding workshops with the Mystic Aquarium and Institute for Exploration, and some club members have been trained as first responders for stranded sea turtles, seals and whales.
On campus, the Environmental Club has organized initiatives to increase recycling, first in residence halls and on-campus apartments and more recently in the O'Hare Academic Building. In addition, the club is routinely involved in stewardship activities such as beach cleanups and fundraisers for other nonprofit environmental groups.
The Green Room program encourages students to reduce their carbon footprint by pledging to recycle aluminum, paper, glass and cardboard, conserve water by taking shorter showers and conserve electricity by unplugging items when not in use.
In 2011, two biology students, with help from a donor, established a fully operational hydroponic "grow house" in the lower level of Hunt Hall. Since then, students have grown spinach, basil, lettuce, chard, kale, microgreens, tomatoes, cucumbers, peppers and parsley.
Proving the commercial viability of hydroponic farming is a primary focus of the research. An outreach program has been implemented in offsite locations throughout Rhode Island to enhance the growth and expansion of this important endeavor, which was recognized in the National Catholic Reporter.
Sodexo donates surplus food to local community members per legal waiver and agreement. Such food is designated, but not limited to, disadvantaged persons, the elderly and the homeless.
Bleach-free, fully compostable brown napkins eliminate the bleaching process and the use of chlorine, while napkin holders reduce napkin usage by 20 percent. Condiments and coffee creamers are served in bulk containers, and the implementation of tray-less dining in the Miley dining hall reduced water, energy and food waste.
Seasonal produce is purchased from Rhode Island farms, and the Miley dining hall also has its own garden, which produces vegetables and herbs. Used cooking oil is donated to Newport Biodiesel for conversion into fuel.
Sodexo has partnered with the Compost Plant, which picks up the University's food scraps and compostable items to turn them into compost. They have also partnered with Red's Best to serve fresh, sustainable fish caught daily in New England waters.
Fair trade coffee is served throughout campus, while catered events use environmentally friendly Earth Plus products and 100 percent compostable Greenware disposable cups. Holiday dinners served in the Miley dining hall contain many menu items from local and sustainable sources.
Salve Regina offers an interdisciplinary major and minor in environmental studies, which exposes students to the broad range of issues that arise from the interaction of humans with the natural world, and to the tools required to understand and solve environmental problems. Students in the program complete coursework in math and science, policy, ethics and society, and preservation, complemented by student-directed research and a thesis in the senior year.
Students who major in biology may concentrate in environmental sciences by completing the additional courses Environmental Chemistry, Conservation Biology, Marine Biology and Ecology and completing additional electives.
Water Conservation and Waste Reduction
Water filtration dispensers are located throughout campus, effectively reducing the waste of hundreds of thousands of plastic bottles.
Showerheads and toilets have been converted to low-flow units and energy efficient washers and dryers have been installed. Reynolds Field uses a well to pump groundwater for irrigation, eliminating $10,000 per year of potable water use. An additional irrigation system using recycled groundwater is in place at the Rodgers Recreation Center.
Housekeepers utilize a microfiber mopping system that uses less water and reduces the number of laundry loads necessary to clean products. Concentrated cleaning products have been replaced with Green Seal certified cleaning products and the Phazer applicator system, which reduces product waste.
In 2011, a group of students in the Environmental Quality course designed a sampling protocol for monitoring the quality of the local freshwater that provides Aquidneck Island residents with their drinking water. The protocols that they designed continue to be carried out by citizen scientists in the field.
Salve Regina students conduct the lab analysis and routinely monitor nutrient inputs and E. coli levels and examine the biological communities that live in these streams.