Nursing - Mallory Tassone '18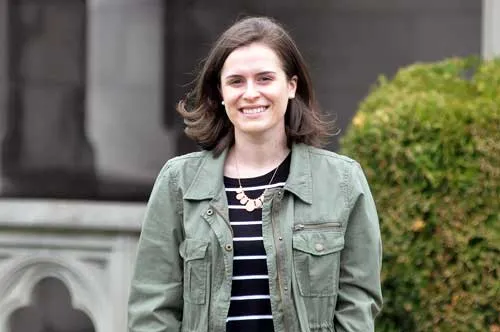 Mallory Tassone '18 came to Salve hoping to follow in the footsteps of her mother, a long-time oncology nurse. "I have seen how the field has impacted my mother and the opportunities that she has had to impact the lives of her patients," she said. "Oncology patients are at such a vulnerable place in their lives, and even the smallest actions have massive impacts on their physical, mental and emotional well-being."
Through coursework and experiential learning, Tassone had a variety of opportunities to pursue her interests in oncology and genetics during her time at Salve. The summer before her senior year, she interned in the inpatient oncology unit at St. Francis Hospital and Medical Center in Hartford, Connecticut.
"I presented one-on-one with a registered nurse," she said. "This was an incredible experience which allowed me to expand upon the clinical skills I had acquired in nursing school, as well as to further develop my critical thinking and interprofessional practice with other disciplines."
Tassone also focused on oncology during her capstone experience, presenting one-on-one in the oncology clinic at St. Anne's Hospital in Fall River, Massachusetts. "I had the opportunity to see one patient through the entirety of his treatment, from start to finish, and this experience greatly influenced my understanding and compassion for oncology patients," she said.
While at Salve, Tassone said she greatly benefited from the simulation labs held during clinical courses. These simulated experiences allow students to practice complex skills in a relaxed learning environment, helping them to better understand the importance of interdisciplinary care and professional collaboration.
She also noted the dedication and passion of Salve's nursing professors. "I never felt like a number or just a name in the classroom, but rather I felt part of a community in which faculty and students strived to learn from each other every day," Tassone said. "This type of collaborative learning made for an environment I will never forget."
Following graduation, Tassone joined the medical oncology floor at Duke University Hospital in North Carolina and plans to eventually become an oncology nurse practitioner. "Specializing in oncology will allow me to provide my patients with more informed and focused care," she said. "I believe that in my role as a nurse practitioner I will be able to further support my patients and assist them in pursuing the care that is appropriate for them as individuals."