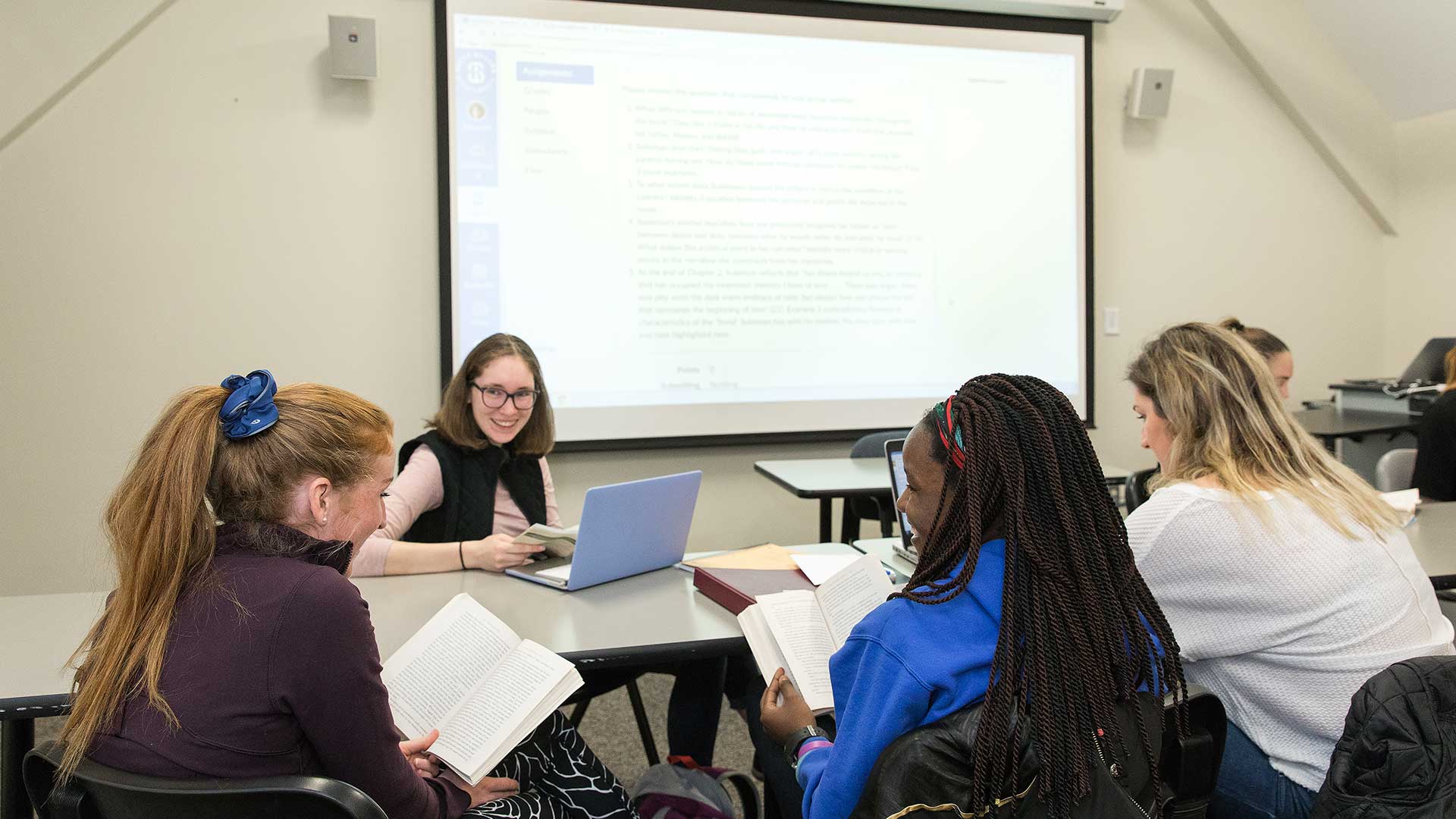 In the age of digital communication, literature has never been more important. In broad context, the study of literature develops an understanding of the world we live in. Words are a window to the world, and literature has recorded every historical event throughout the course of time. Literature takes the reader on a journey to imaginary places as if they were living it. If you wish to broaden your horizons, then Salve Regina University's bachelor's degree in literature is a must.
Refine Your Creative, Critical and Analytical Skills
Our students possess a love of reading and history. They want to challenge their own beliefs and learn new cultures in the interest of developing greater empathy. They strive to become stronger writers to express their voice both creatively and concisely.
Salve Regina's program explores mythology, contemporary British and American literature, world literature and more. We study prominent authors such as William Shakespeare, Jane Austen, Charles Dickens, Henry James, Jhumpa Lahiri, Zadie Smith, Colson Whitehead, Herman Melville and Thornton Wilder and devote courses to genres such as the Harlem Renaissance of the early 20th century, fairy tales and young adult literature.
A senior thesis is required and study abroad and internship experiences are encouraged. Students may also choose to double major in literature and secondary education, which prepares them to apply for Rhode Island teacher certification for grades 7-12. And through Salve Regina's popular accelerated program, qualified undergraduates can begin our master's degree in creative writing during their senior (fourth) year.
Program Spotlight: Talking Statues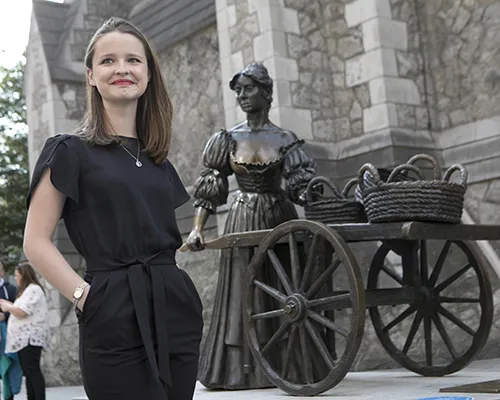 During a semester abroad in Ireland at University College Cork, Michaela McMahon '19 – a double major in literature and cultural and historic preservation – wrote a monologue that won an open competition to tell the story behind one of Dublin's most popular statues, that of folk hero Molly Malone.
Literature and creative writing played important roles, because you are influenced by the authors you learn about while developing your own writing style, academically and creatively. I would not have been able to write the monologue the way I did without the unique outlook that my studies afforded me.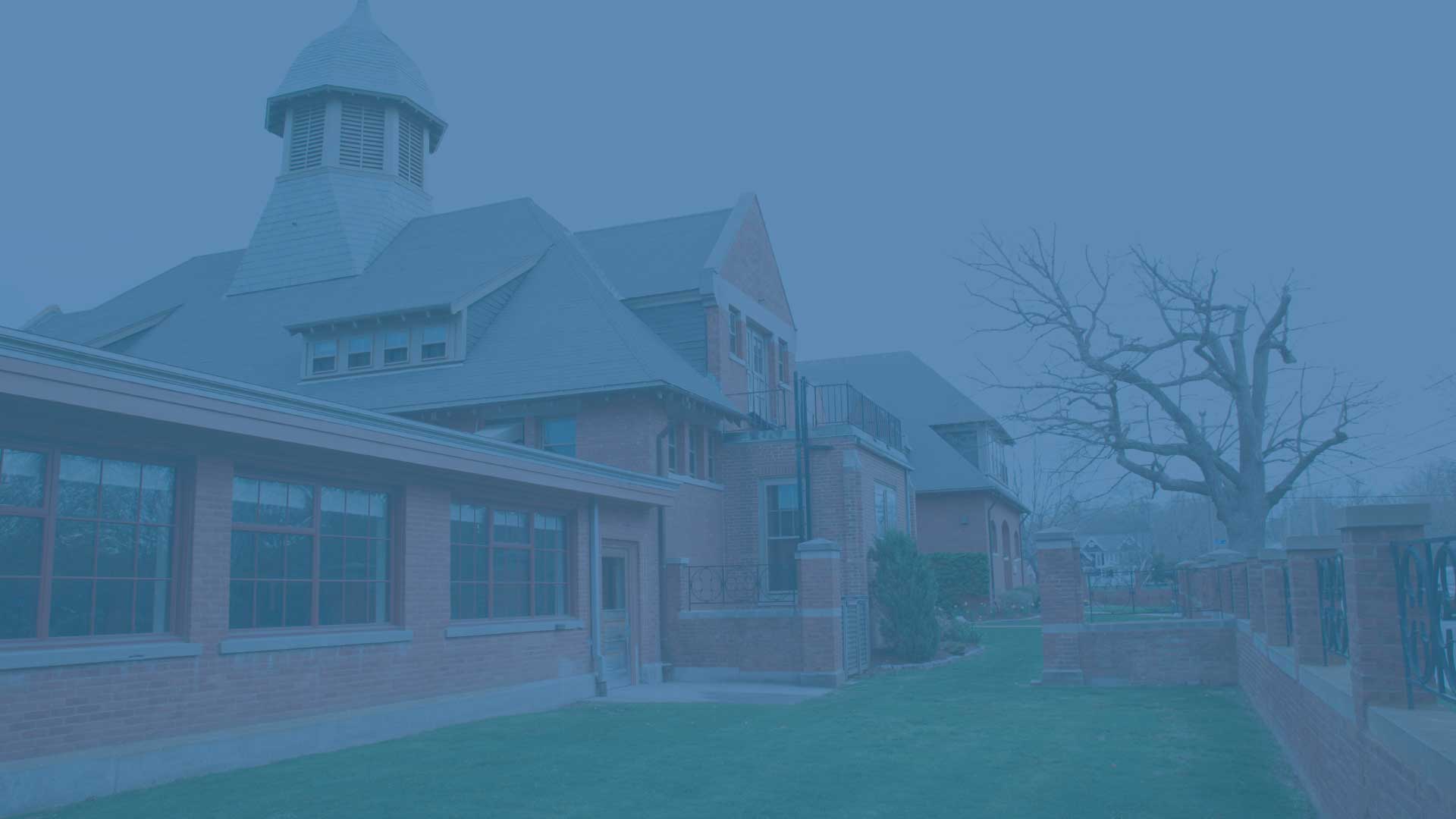 Our full-time faculty members specialize in different areas of literary studies and are supported by occasional adjunct professors. Our students enjoy close and personal relationships with our highly qualified and dedicated faculty.​
As a humanities program, literature degrees are valued by employers because graduates are seen as having a well-rounded background. A literature degree fosters the creative, critical and analytical skills needed for graduate study and for a variety of rewarding careers in fields such as law, publishing, media, education, business, government, nonprofit groups and international-aid organizations.
 The close analysis required of a literature major continues to help me when we're considering a new manuscript for acquisition. Writing articles for my communications courses helped me to be more concise, which is crucial when preparing pitches and press materials. 
Mary Van Akin '10, director of school and library marketing, Macmillan Children's Publishing Group
Program Spotlight: Recreating "The Inklings"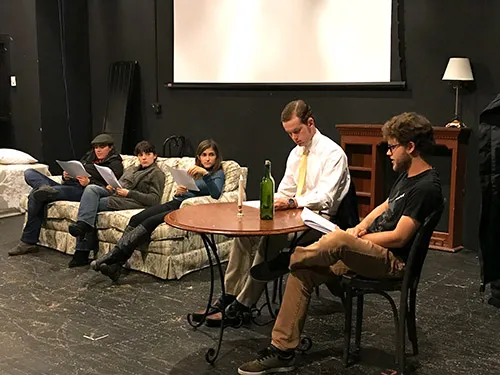 A group of writers associated with the University of Oxford in the 1930s and 1940s, the Inklings included the likes of Owen Barfield, C.S. Lewis and J.R.R. Tolkien. They held regular literary discussions and produced some of the most beloved British literature, such as "Lord of the Rings" and "The Chronicles of Narnia." Salve Regina's course on the Inklings recreates the experience of being part of a literary group. Students read the works, perform parts of plays and try to explain the intent of the work.
It wasn't just about reading books or listening to lectures. As far as English classes go, it was much more active. There were videos that we watched, plays we got to act in, and discussions about modern issues and varying political thoughts. Everyone learns differently, but most students seem to work best in that type of environment.
Effie Gianitsos, literature major
Major in Literature (B.A.)
13 courses | 39 credits
Required courses:
ENG190: Introduction to Literature
ENG247: Introduction to Literary Theory and Criticism
ENG325: Studies in Shakespeare
ENG489: Critical Writing and Research
ENG490: Senior Seminar Capstone
Students choose two of the following American literature courses:
ENG215: Elements of Modernism in Twentieth-Century American Literature
ENG217: African American Literature
ENG240: Witches in American Literature
ENG284: America in the Graphic Novel
ENG313: The American Literary Renaissance
ENG314: Realism and Naturalism in Nineteenth-Century American Literature
ENG315: The Harlem Renaissance
ENG330: Literary Landscape of Newport
ENG340: Afrofuturism in Literature and Culture
Students choose two of the following British literature courses:
ENG228: The Romantic Revolution
ENG229: British Victorian Literature
ENG230: British Modernism and the End of Empire
ENG321: British Literature from Beowulf to Everyman
ENG322: Literature of the English Renaissance from Wyatt to Marvell
ENG326: Restoration and Eighteenth-Century British Literature
ENG329: The Inklings: C.S. Lewis, J.R.R. Tolkien and Their Circle
ENG338: Literature of Place
ENG376: The World of Jane Austen
Students choose one of the following world or regional literature courses:
ENG345: Studies in World Literature
ENG346: Post-Colonial Literature
ENG349: Literature From the Middle East
Students also choose three electives in literature or writing from an approved list of courses.
Major in Literature and Secondary Education (B.A.S.)
13 courses | 39 credits
To earn the double major, students complete the courses required for a B.A. in literature and must also meet the requirements for secondary education.
ENG281: Advanced Composition is an additional required course.
Minor in Literature
6 courses | 18 credits
Required courses:
ENG190: Introduction to Literature
ENG247: Introduction to Literary Theory and Criticism
ENG325: Studies in Shakespeare
Students also choose three electives in literature, in consultation with their advisor or department faculty.