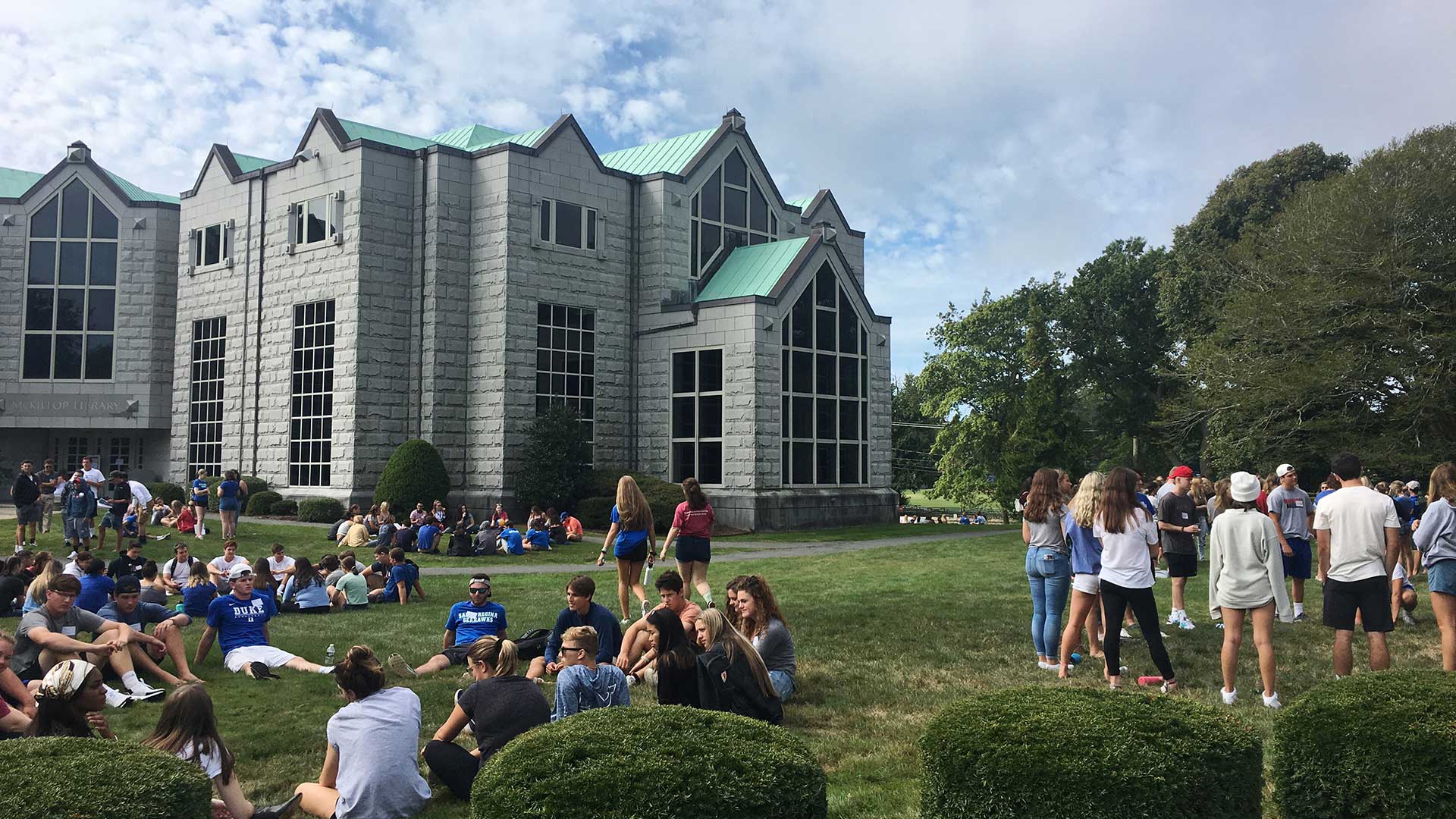 First Year Experience
Student Engagement
Our First Year Experience program aims to ensure a smooth transition into college life. We help first-year and transfer students meet new people, learn more about themselves, become familiar with available resources and develop the skills necessary for success. Our unique programs – Anchor Week, First Year Transitions and the peer mentor program – help new students engage more fully with the University and challenge them to reach their full potential.
Anchor Week
Anchor Week, which begins on move-in day and runs through the first week of classes, provides new students with an educational and enjoyable introduction to life at Salve Regina. Students should expect to meet fellow new students, learn about campus resources and policies, and explore the campus and Newport community.
Signature Anchor Week Events
Move-in day: The residence halls open early for new students to move in before upperclassmen. Keep an eye out for your peer mentor – they might be the "McAuley Mover" helping you move in.
Day of service: Salve Regina considers participation in community service a visible way to live the University's mercy mission. During the day of service, new students volunteer at various locations around Aquidneck Island with their FYT class, allowing them to give back to their new community while bonding with their peers.
Convocation: A longstanding tradition that welcomes students into the University community, Convocation is a ceremony that marks the beginning of students' academic careers at Salve Regina.
Welcome booths: On the first day of classes, welcome booths are centrally located on campus to help students find academic buildings and answer any questions they may have.
Involvement fair: Student organizations, athletic teams and academic departments come together during the involvement fair to promote their passions. New students can learn more about ways to get involved, talk with current club members and athletes, and sign up for any program that interests them. See the full list of student organizations.
Service fair: The service fair provides an opportunity for students to meet community partners and learn more about how to get involved with service during their time at Salve Regina. To learn more, visit the Center for Community Engagement and Service website.
First Year Transitions
All new matriculating students are enrolled in a First Year Transitions (FYT) course during their first semester at Salve Regina. The course is designed to support students' transition into college life and promote an exploration of self-awareness and personal identity.
Students participate in various activities on topics such as campus resources, time management, Clifton Strengths, goal setting and personal health and well-being. Courses are instructed by University staff and faculty, and are co-taught by peer mentors who are current Salve Regina students. Students in the same FYT course are also enrolled in the same University Seminar during the fall semester. University Seminars are designed to assist first-year students in developing reading, writing and critical thinking skills at the college level.