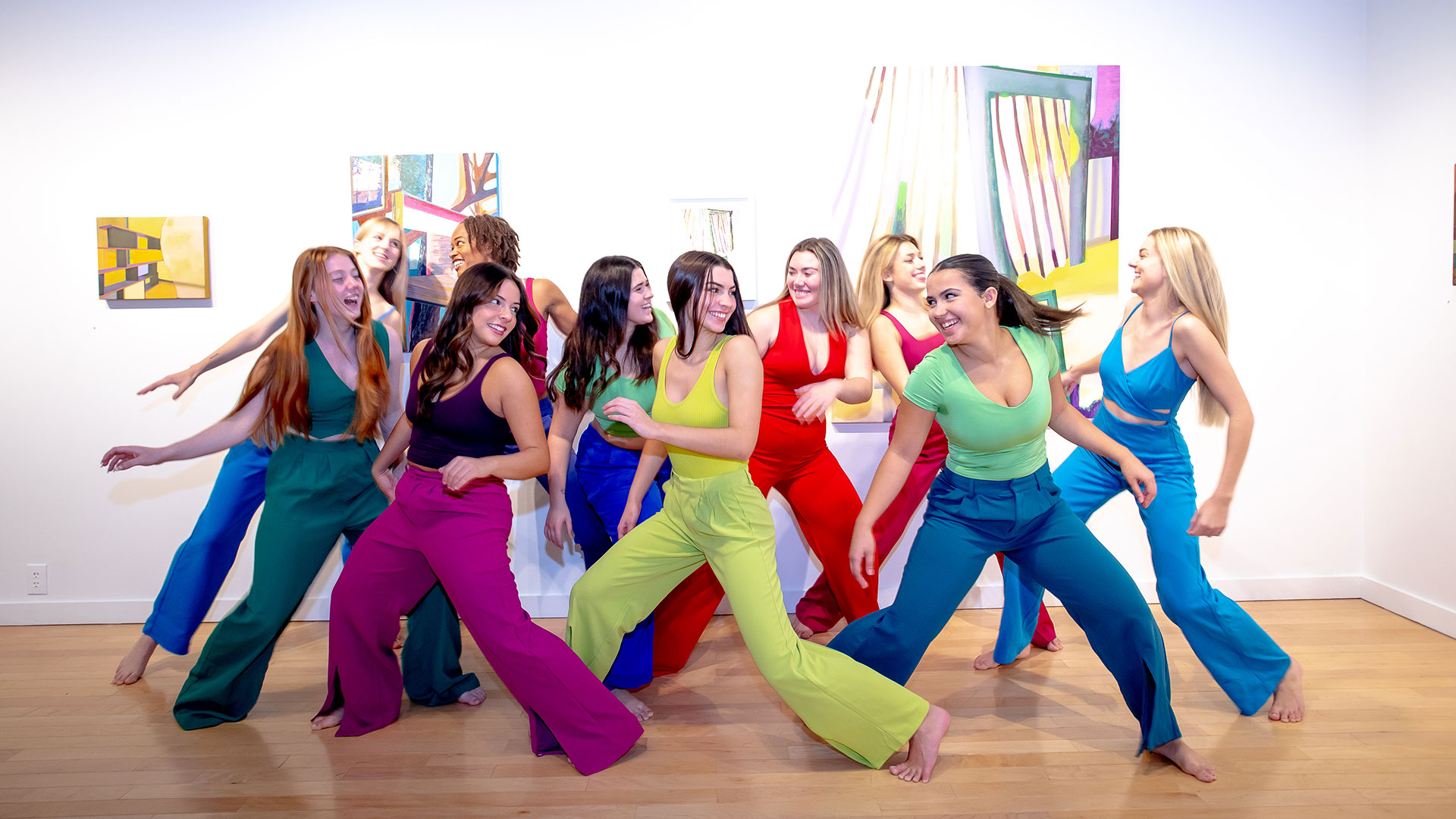 At Salve Regina University, our bachelor's degree in dance offers a transformative education through the study of dance in a liberal arts environment. With a focus on jazz studies, our program acknowledges and honors jazz as a historically Black American art form best understood through awareness of one's own identity and culture. Community is at the heart of Salve Regina's dance program, with an environment that encourages and supports individuality, personal creativity, dynamic exchanges of energy, risk-taking and resilience - all enduring values within the jazz aesthetic.
Nurture Your Strengths and Interests at Salve Regina
Both the bachelor's degree and the minor in dance require that students work closely with faculty to design an educational experience relative to their own strengths and interests. Across the curriculum, students engage in critical dialogue, physical practice and creative production as they study dance history, theory, technique, performance, composition and pedagogy.
Students develop their artistic voices in studio courses across a range of dance styles, including jazz, contemporary, tap, hip hop and ballet, and specifically investigate jazz and jazz-adjacent styles in performance on concert dance stages. Courses highlight the intersectional nature of dance to inspire connections across disciplines, allowing each student to carve out an individualized career pathway for future success.
In alignment with the mission of Salve Regina, we strive to offer an education that is inclusive, culturally relevant and antiracist. Our students develop into empathetic, self-aware artists empowered to impact their communities in ways that promote equity and justice.
Program Spotlight: Endless Opportunities
We value community as a core value within the dance program. Everyone comes into the program with their own personal style, their own background. Instead of trying to make a space for the dancers who are like each other, we encourage them to be themselves.
Our students have endless opportunities as performers and as student choreographers, and they are immersed in working with guest artists from across the field. Our students are taking master classes all the time, they're engaged in rehearsal processes and they are performing quite frequently.
Lindsay Guarino, associate professor and chair, Department of Music, Theatre and Dance
Develop Your Artistic Voice
Salve Regina's dance program provides students with individualized attention and a wide range of training and performance experiences. Our liberal arts education, in combination with a curriculum based in the performing arts, helps students realize their artistic potential while acquiring skills that lead to lifelong learning.
Through the discipline of performance, students explore concepts like teamwork, problem solving, community participation, active listening and the synergy that comes from working together to create a single end product. This process leads to improvement of self-image, presentation and development of human potential.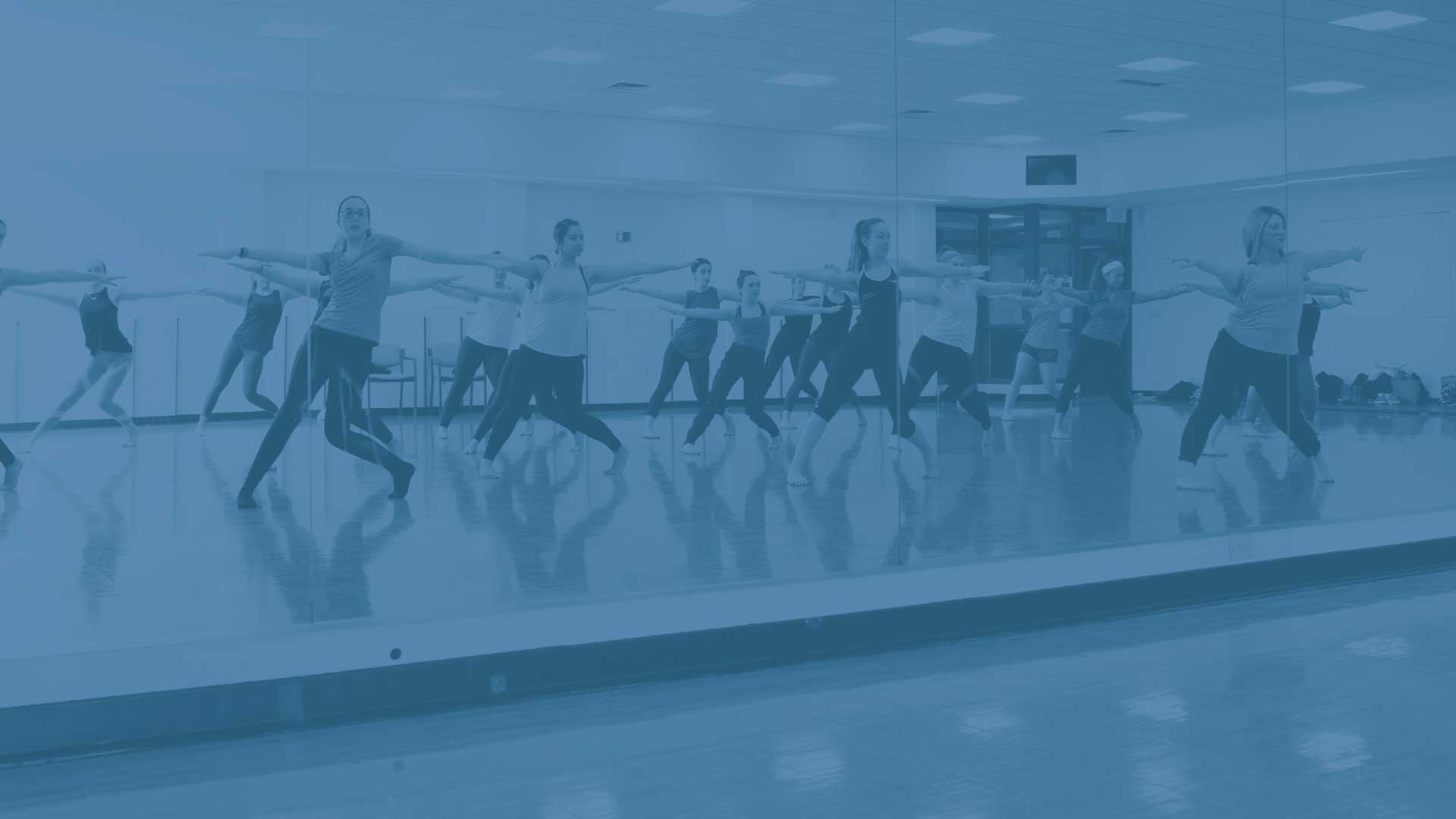 Salve's dance faculty members are performers, choreographers, scholars and – most importantly – educators. Our goal is to create an environment where you can dream, take risks and explore your creative potential. 
Lindsay Guarino, associate professor
Salve Regina's dance program not only fuels students' passion with formal training and structured exposure to all aspects of the art form, it also develops a well-rounded graduate prepared to excel in today's demanding workforce.
Possible careers include:
K-12 arts educator
Arts administrator (marketing, communication, company management, development, social media coordinator)
Independent/freelance choreographer
Independent/freelance performer
Dance studio manager
Teaching artist in various studio and community outreach programs
Event planning
Public relations and marketing
Booking and facilities management
Arts therapy
Dance therapy
Education
Physical therapy
Choreography and performance
Students may pursue graduate study to advance their careers in performance or choreography. Others may earn a master's degree or doctorate in pursuit of careers in dance education, dance therapy, dramaturgy or arts management.
Dance minor Casey Sheehan '14 had never taken a dance class before arriving at Salve Regina. After performing live on stage alongside Lady Gaga as a member of the dance team for her recent Las Vegas residency, he reflects on the program that changed his life.
Major in Dance (B.A.)
38 credits
Required courses:
DNC100: Dance in Society: Aesthetics and Cultural Contexts
DNC210: Roots of Jazz Dance: Africanist Aesthetics and the American Experience
DNC231: Rhythm-Generated Jazz Styles and Techniques
DNC301: Dancing Histories
DNC310: Arts for Social Action
DNC331: Contemporary Jazz Styles and Techniques
DNC400: Choreography
DNC401: Dance Composition
DNC490: Jazz and Justice Capstone
Students take a minimum of 15 credits across at least three different dance styles, chosen from the following:
DNC080: Advanced Contemporary Workshop
DNC120: Contemporary Dance
DNC122: Ballet I
DNC123: Tap Dance
DNC124: Dance for Musical Theatre
DNC125: Hip-Hop Dance
DNC126: Conditioning for Dancers
DNC127: Social Dance
DNC131: Theatrical Jazz Styles and Techniques
DNC220: Contemporary Dance II
DNC222: Ballet II
DNC230: West African Dance
DNC231: Rhythm-Generated Jazz Styles and Techniques
DNC321: Contemporary Jazz Styles and Techniques
DNC370: Dance Performance
DNC399: Special Topics
Students also complete six credits of interdisciplinary coursework, chosen from a list of offerings in American studies, biology, communications, history, management, sociology and anthropology, theatre arts and women, gender and sexuality studies.
Minor in Dance
18 credits
Required courses:
DNC100: Dance in Society: Aesthetics and Cultural Contexts
DNC210: Roots of Jazz Dance: Africanist Aesthetics and the American Experience
DNC301: Dancing Histories or DNC400: Choreography
Students take a minimum of nine credits across at least three different dance styles, chosen from the following:
DNC080: Advanced Contemporary Workshop
DNC120: Contemporary I
DNC122: Ballet I
DNC123: Tap Dance
DNC124: Dance for Musical Theater
DNC125: Hip-Hop Dance
DNC126: Conditioning for Dancers
DNC127: Social Dance
DNC131: Theatrical Jazz Styles and Techniques
DNC220: Contemporary Dance II
DNC222: Ballet II
DNC230: West African Dance
DNC231: Rhythm-Generated Jazz Styles and Techniques
DNC310: Arts for Social Action
DNC331: Contemporary Jazz Styles and Techniques
DNC370: Dance Performance
DNC399: Special Topics
DNC401: Dance Composition