Internships
Communications
Internship site: Channel 10 News Providence
Overall, what I learned while working at NBC 10 as a newsroom intern was invaluable. No other experience I have had thus far comes close to the opportunities I was offered at this station. I learned to edit video using programs like Avid and iNews, and I was able to shadow reporters and photographers while they worked on stories in the field.
One of the biggest lessons I learned was that covering the story is not only capturing all of the proper visuals for a package. It also requires a ton of problem-solving throughout the process. An example of problem-solving on the field would be from a time I was with a reporter who kept facing challenge after challenge in covering this one story. People don't always want to talk, and police reports aren't always immediately available. But you still have to get your story.
Internship site: Potter League for Animals
As a communications intern at the Potter League for Animals, I always had projects to tackle when I came in to work. Early in my internship, for example, I set up a social media content calendar to help the shelter promote an upcoming massive community event/fundraiser on Facebook, Instagram and Twitter. I always love when I get to apply skills that I've learned in my communications courses at Salve in a real-world setting. The social media content planning skills that I learned in my social media and public relations practicum courses helped me make a difference.
Interning for the Potter League was a very joyful experience for me. Oftentimes, I would arrive at the shelter early so that I could go around and visit the adoptable animals before I started work. For me, doing work that helps others and makes a positive impact on the world is extremely important. Ideally, I would have a career in which I could contribute to a mission that focuses on helping those in need that could also provide a comfortable living for myself.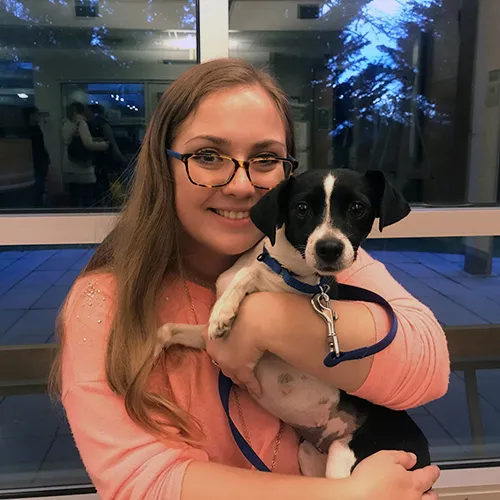 Internship site: Salve Regina University
My internship experience with the Office of Strategic Communications and Public Affairs was an amazing learning opportunity that has helped me in deciding the future career paths that I will pursue. This was my first internship and although I did not necessarily know what to expect, I was excited to work in the field that I have been learning so much about through my coursework as a communications major.
The people who work in the Office of Strategic Communications and Public Affairs wear multiple hats and balance several tasks at once. Learning to juggle multiple responsibilities simultaneously while also being exposed to new tasks and projects was a great way to prepare myself for a future career in any field. Whether I was writing feature articles on alumni, posting on Instagram, or redesigning webpages, I developed a host of skills that will serve me well when I graduate.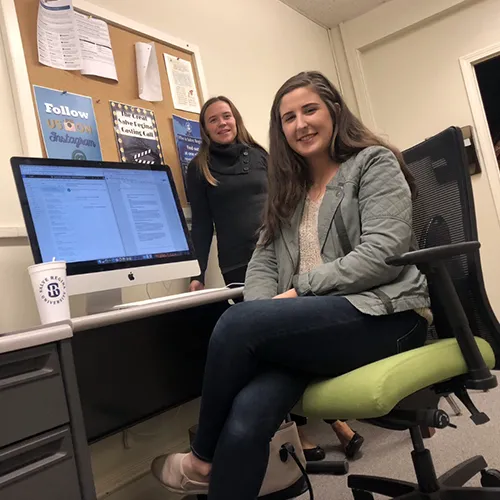 Internship site: Gray Matter Marketing
I worked with Gray Matter's director of communications, who oversees all of the firm's social media along with advertising and planning the firm's popular events like the Ocean Road 10K, the Newport Marathon and the Pell Bridge Run. I'm very interested in advertising, and as a runner myself, I was interested in seeing these races from an entirely different perspective. I had the chance to work with Instagram advertising and with marketing plans such as one for Gray Matter's five Craft Brew Runs.
Internship site: Channel 12 News Providence
I learned a lot about myself and the industry from my position as digital intern at WPRI 12 news. One of the major things I learned about myself is that I enjoy being out in the field, whether it is filming or interviewing people for a story. I am the type of person who enjoys being busy, so being out in the field was a perfect fit.
I also learned that television reporting may be a field I am interested in when it comes to my future career because reporters pretty much do it all, from interviewing, filming and creating their own packages. Not every story will be a hit. Sometimes you get your hopes up, and the story you thought you had doesn't come through. News is unpredictable – and I like that about the field, too.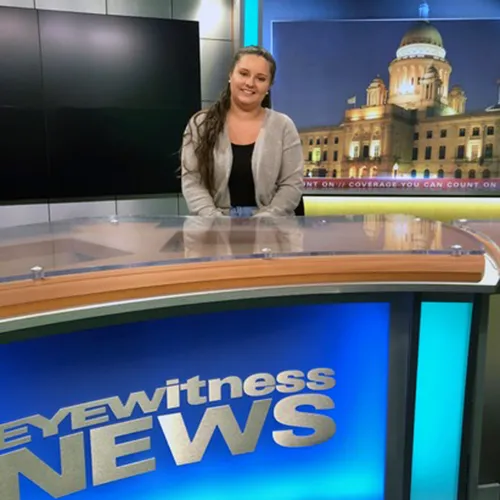 Internship site: Gray Matter Marketing
I learned a lot about myself that I did not know before I started the internship. Before, I had no idea what I wanted to do after graduation, but I have a minor in marketing so I thought this internship would be good for me. Attending events such as road races and brew fests, I realized that I really like the planning and organizing of such events. The events that I worked at made people so happy, and it was so rewarding to see all of the happy faces after crossing a finish line or hanging out with friends at a festival. I knew I always wanted to do something that would make people happy, but I just never knew what that was. Now I do.