Administration of Justice and Homeland Security - Thomas Wagner
Thomas Wagner
Administration of Justice and Homeland Security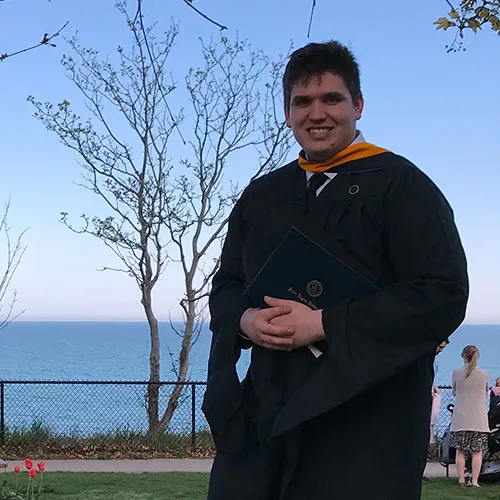 It took Thomas Wagner '18, '19 (M) five years and a lot of hard work to complete Salve Regina's combined bachelor's/master's program in administration of justice and homeland security, but the education has been well worth it. With just a few years of experience, he landed a top job as an information system security officer at Lockheed Martin in 2019.
He knows how lucky he is. "If I hadn't had jumped into my education at Salve, then I wouldn't be in the position that I am as someone with only two years of experience in a position that usually requires 10 years of experience," said Wagner, who earned a bachelor's degree in administration of justice and master's degree in administration of justice and homeland security with concentrations in cybersecurity and intelligence as well as digital forensics.
Wagner always loved working with computers as a kid, but he didn't realize he could turn that hobby into a career until he enrolled in Salve Regina's administration of justice program. As he began to learn, cybersecurity is a growing field and one that is ripe for opportunity – and he saw a career path emerge from his own childhood interests.
"I can say that the options are limitless," Wagner said. "It is not an easy career field, but it is a very beneficial one. I'm not only financially secure for the rest of my life, but I have plenty of career opportunities."
While much of the work Wagner does for Lockheed Martin is classified, some of his duties include supporting government customers to ensure security compliance and governance standards. He also does penetration testing – ethical hacking against the government's systems to try to identity vulnerabilities. And, of course, he helps defend against cybersecurity attacks when they come from the outside.
"When someone is attempting to break into the system and we catch on to them, my job is to go out and figure out how they broke in, clean up and get rid of anything they could've planted," he said.
Wagner attributes his success to his administration of justice faculty for showing him how to handle this kind of highly classified work. His graduate-level courses taught him to think along the lines of someone who was actually working in the field of cybersecurity long before he did so.
"What's nice about the program is that it's not just one aspect – it covers everything, which helps you be successful in your career path depending on which direction you go," Wagner said. "Audits and penetration testing, network forensics, advanced digital forensics – they even cover the cyber law side of it."
He encourages anyone who is considering the program to go for it. Salve Regina got him where he is today, and he is forever grateful for the well-rounded liberal arts education he received at both the undergraduate and the graduate level. "You'll find professors that are going to really help you excel," Wagner said. "They're all there to benefit you."